At 11 o'clock this morning, in a move that surprised many, Prime Minister Theresa May made a surprise announcement that a General Election is to be held on 8th June this year. This comes after many at the top of the ruling Conservative Party had consistently ruled out a snap election, based on the premise that the process for leaving the European Union required political stability that an election often compromises.
There is a technical aspect to this announcement too, namely that the government must hold a vote in the House of Commons and achieve a two-thirds super-majority in favour of holding a general election, as set out in the Fixed-term Parliament Act 2011 – only through a super-majority vote or a vote of no confidence in the government can an election be held outside of the fixed 5-year term.
Unparalleled Poll Lead
However, only a fool would deny that an election at this point makes perfect sense to the Conservative Party and indeed the national interest. Since Theresa May became Prime Minister, the Conservative Party has been an average of 16 points ahead in the polls (currently 21), a situation that is unparalleled for a governing party in modern times. Such a commanding lead is expected to translate into a vastly increased majority in the House of Commons, which the government requires if it is to push through its 'Brexit' agenda at the necessary pace and without unnecessary delay.
And it is not just the Conservative Party as a whole that holds a commanding lead in the polls. Theresa May herself is currently riding the wave of public opinion – a recent poll suggests that 50% of people believe Theresa May would/does make a good Prime Minister, compared to just 14% who believe the same of the leader of the opposition, Jeremy Corbyn.
Our polling average update:

CON: 42.3%
LAB: 26.4%
UKIP: 10.9%
LDEM: 9.9%
GRN: 4.0%

Most recent survey: 17 Apr (ICM) pic.twitter.com/doPWSjrYfK

— Britain Elects (@britainelects) April 18, 2017
Personal Mandate
It is this public opinion that Theresa May and the Conservative Party wish to see reflected in the composition of the House of Commons. Should the election play out as most people believe it will (a massive Conservative majority), Theresa May will also be able to extinguish the burning question over her personal mandate as Prime Minister.
As many are aware, Theresa May became Prime Minister by default after David Cameron resigned and her opposition within the party allowed her to take the party leadership uncontested in August 2016. This has raised questions concerning her legitimacy to lead the nation, giving ammunition to opposition parties who wish to discredit policy by association to person, a situation that a strong election result will rectify.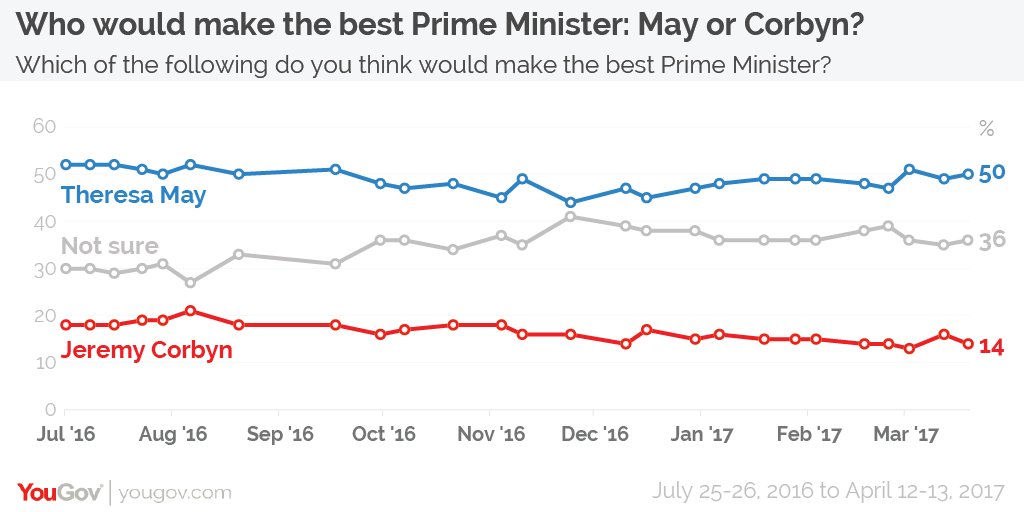 Who To Back?
This election will be rather unusual, for it is going to be fought against the backdrop of Britain's vote to leave the European Union. The Conservative Party will stand on a platform of delivering the wishes of the British people, Labour on a platform of a pseudo-socialist Brexit and the Liberal Democrats on a platform of reversing the referendum result.
UKIP are as good as defunct in this situation, for their key policies have been adopted by the Conservative Party who actually have the ability to get things done, considering they're in government and UKIP isn't. A vote for UKIP is essentially a wasted vote.
This creates a situation whereby there are no parties for nationalists to really throw their weight behind. The British National Party fielded only 8 candidates in 2015 and there is no indication to suggest their fortunes have improved since. Similarly, Liberty GB, a promising British nationalist and self-styled 'alt-right' party fielded just 3 candidates in 2015, giving it no real electoral prospects this year either.
This election will be too soon for The Patriotic Alliance.
Tactical Election
The reality is that this upcoming election will be very tactical for British nationalists. On the one hand, the Tories are a signed up (albeit tentatively) to all the 'New World Order' doctrines such as replacement migration and international finance. On the other hand however, there is no other party that is capable of delivering Britain's exit from the European Union in a manner suitable to the British people.
In this election, we must bite the bullet and vote Conservative as a means to an end. There will be plenty of other opportunities in the future to elect more radical representatives, yet for now we must sit tight and hope that the words of the late, great Enoch Powell will ring true, that it will not be too late to save our country.